Alterpages
From Altervista Wiki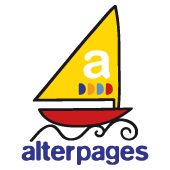 Alterpages is the web builder tool by Altervista to create your personal website, an image gallery, a small business website or a presentation for your product, project or activity.
What can you do with Alterpages?
This short video explains you the main Alterpages features.
Alterpages includes many widgets to create a website:
Basic widgets as Titles, Text and Images
User interaction with comment box, contact form and chat
Image widgets for slideshows and grid galleries
Multimedia embed widgets for Youtube and Vimeo
Social widgets for sharing and display content
Get started with Alterpages
To use Alterpages you have to create an Altervista hosting account.
After the registration process you can access your control panel, click on "Applications" on the main menu -> click the "Activate Alterpages" and after choosing some options you're ready to create your site.
Using Alterpages
Editing your site is very easy. Just navigate to the page you want to edit and click on the "Edit" button on page bottom. An alternate way to activate the edit mode is to press the CTRL+ENTER (or CMD+ENTER on Mac) key combination on your keyboard.
After the edit mode has started you can move your mouse pointer over the page areas and widgets and use the contextual menus to edit, add, delete and move widgets around the page.
Frequently Asked Questions (FAQ)
Here the most common questions from our support forum.
I edited my HTML code but after some while the old code is back
Alterpages overwrites the pages HTML code every time some modification has done. So it is absolutely not recommended to do manually edit your pages' HTML code.
How can I add some custom HTML code inside my page?
You can add any code snippet pasting it inside an HTML widget.
I added a widget, but it see it on all pages. Why?
Widgets added to the Header, Sidebar and Footer page areas are visible on all pages. If you want to add a widget to only one page add it to the Content area.
You can move widgets from one area to another one by clicking on Options -> Move to other area.
The top navigation menu is a common Navigation widget. If deleted you can easily restore it added a new Navigation widgets to the page "Navigation area" or in the sidebar.
More help needed?
Tutorials and guides are available on the Alterpages demo website
For more specific help please visit our support forum